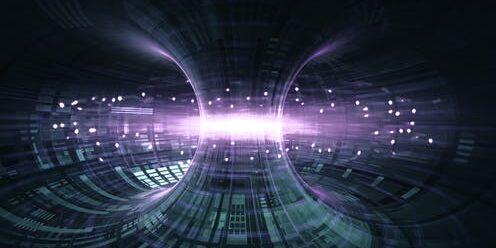 UK's Test Experiment Has Found A Solution To Fusion Energy's Biggest Challenges
The Culham Science Centre is one of the leading research facilities in the UK developing fusion Power plants.
A recent test conducted by UKAEA's MAST upgrade machine for fusion experiment brought to light a solution that currently stands as a challenge in commercialising fusion energy.
In brief, the experiment yielded the following findings:
A tenfold reduction in the heat was experienced on key fusion machine components.

The experiment boosts the UKs STEP programme to materialize putting fusion power in abundance on the grid, paving the way for low-carbon electricity.

UKAEA's MAST Upgrade device dispelled a major hindrance standing in the way of fusion energy becoming commercial.
UK Atomic Energy Authority (UKAEA) scientist have successfully tested a concept that is likely to dispel one of the major trials in the development of fusion energy.
UKAEA's Newest MAST Upgrade Experiment at Culham show initial results of an effective yet innovative exhaust system that would make fusion power plants compact and commercially operational.
With an abundance of fuels and zero greenhouse gas emissions, fusion energy is set to be a sustainable and safe part of the world's future energy setup.
The way stars create heat and light is fusion energy, which is the combination of two nuclei to form a heavier nucleus. With the aid of Tokamak, a magnetic machine, fusion power stations heat gas or plasma. The fuel used is hydrogen (deuterium and tritium) to fuse them to release energy to generate electricity. The challenge it currently faces is heat. Excess heat during the fusion reaction needs to be removed to get tokamaks on the electricity grid.
This requires an exhaust system build with materials able to handle intense heat. Without an exhaust system, materials will need continuous replacement. This affects the operation time of the power plant by a huge margin.
"Super-X divertor" is a new system that allows components in all future commercial tokamaks to last longer. With this system in place, the availability of the fusion power plant is enhanced enormously making it economically feasible by reducing the cost of fusion electricity.
In October 2020, the MAST upgrade started its tests and the results have been conclusive. A Tenfold reduction in the heat was seen on materials with the Super-X system in place. This finding is avant-garde in making Fusion power plants in delivering inexpensive and efficient electricity.
A prototype fusion power plant is in the pipeline, set to be developed by 2040 under the STEP programme by UKAEA. It aims to a "spherical Tokamak," a compact machine. Super-X divertors' success is a huge stepping stone for engineers designing the spherical tokamak STEP device.
The results of this successful test were announced by the UKAEA at the official opening of the MAST upgrade facility where the guest of honour, Tim Peake (British astronaut) will create his artificial star by running a plasma test.
UK Government Departments for Business, the Engineering & Physical Sciences Research Council (EPSRC), Energy & Industrial Strategy and the EUROfusion https://dedhamdocs.com/buy-tadacip-20mg/ consortium currently fund the MAST Upgrade facility.
Dr Andrew Kirk, UKAEA's Lead Scientist at MAST Upgrade, expressed his enthusiasm at these "fantastic" results as a decade has been spent trying to perfect this. The sole reason for a MAST upgrade was to solve the "heat issue" for fusion power plants and it is almost surreal that they have successful results.
The Super X divertor reduces heat on the exhaust system from a "blowtorch" level, similar to a car engine. This is significant, as it means it would only require replacement once during the lifetime of the fusion power plant.
This discovery is instrumental in developing and kick-starting UK's plan to achieve fusion power generated electricity on the grid by 2040 alongside bringing low-carbon energy from fusion energy to the world.
Amanda Solloway, the science minister, also commented on the incredible breakthrough. She expressed her happiness at garnering results to fusion energy's greatest challenges in a matter of seven months. She believes that innovative projects like the MAST upgrade are crucial in cementing UK's status as a "Science Superpower."
Likewise, Professor Dame Lynn Gladden, EPSRC Executive Chair said in a statement that EPSRC has been supporting UK's development as a fusion energy leader since the early 2000s. These first test results from the MAST Upgrade project are a reflection of the fact that fusion energy has great potential to revolutionize Earth's energy supply.
Further Reading: The Super-X factor: UKAEA's world-first fusion exhaust system